Services We Provide
With over 50 years of combined experience in maintaining boats and yachts, we at Northstar have both the experience and skills to provide the highest level of service every time we are on your vessel. Our staff is highly trained and we use only the highest quality products proven to be effective in our unique marine environment. While we can directly handle most of your vessel's needs with our own team, we also know our limits! We know who the reliable highly trained specialists are in the local marine industry (certified mechanics, a/c technicians, canvas professionals, etc.) and we know when to call them to deal with issues beyond our skill set. The following paragraphs summarize the nature of services we provide.
Cleaning
Dirt and salt are two of your boat's biggest enemies contributing to premature aging and unnecessary repairs to the boat. A regular program of effective cleaning of the boat substantially reduces the impact of dirt and salt, leaves the boat looking better on a consistent basis and lowers the overall cost of boat ownership in the long run.
Cleaning of vessels is done from the hard top / bimini to the water line using only wax / gel coat safe chemicals and equipment that will not mar the surface of your vessel. The process starts with a thorough soapy wash of the entire vessel followed by chamois drying. Our attention to detail is what makes us different from the others...our approach is not the routine "boat wash"... but more like a "spring cleaning" each time...the most thorough cleaning your boat has ever received!! Our routine periodic cleaning service includes: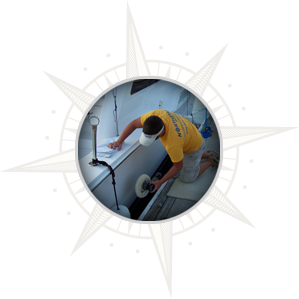 Clean all smooth gel coat surfaces
Clean all non-skid deck surface with special cleaners
Clean and streak-free dry all eisenglass (inside and out)
Clean and dry all exterior glass windows
Clean and dry (chamois and cloth) all stainless
Clean and dry all bridge/helm/cockpit areas
Clean and dry all hatches, compartments, fish boxes, etc.
Clean and dry all vinyl seats and cushions (under them too!)
Rust removal, mold removal, mildew removal
Detailing
Effective detailing/waxing of a boat retards the damaging impact of the sun's UV rays, repels dirt and salt accumulation, and allows for more efficient cleaning of the boat...not to mention how good a boat looks when it is freshly waxed! And if you are thinking about selling or trading your boat at some time, a routine detailing program will add thousands to the value of the boat.
Through Northstar's detailing service, every component of the exterior of your boat or yacht is thoroughly cleaned, dried, and polished. The detailing process begins with the cleaning process described above to ensure that the vessel's gel coat (or paint) is properly prepared prior to waxing. Northstar employees use only top of the line detailing products manufactured by 3M, McGuiars, Fleet or others of comparable quality. We apply wax using random orbital buffers to ensure maximum wax adhesion and we remove wax by hand with soft cotton cloths. Rarely do we detail a boat with high speed buffing wheels that risk marring the boat's surface and often result in a superficial and short-lived "shine". In addition to the complete waxing of all smooth exterior surfaces, Northstar's detailing service also includes...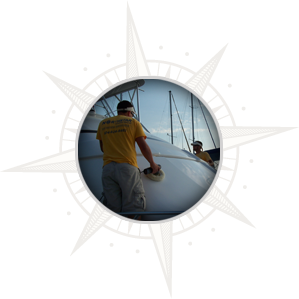 Rust, scuff, mildew, mold and other contaminant removal
Light compounding of oxidation, 'dock rash', etc.
Cleaning and polishing all stainless trim, rails, etc.
Cleaning and chemically treating all aluminum trip/pipework
Cleaning and treating all vinyl seats, backrests, etc.
Cleaning and chemically treating outriggers
Cleaning topside and underside of canvas biminis and covers
Compounding
Compounding work is provided for vessels with scratched, heavily oxidized and/or otherwise dull gel coat or painted surfaces. Surfaces in this condition must be smoothed and the underlying pores sealed prior to waxing to achieve the normally desired result. Compounding removes the top layers of oxidation, dirt, and/or damaged gel coat / paint. After the compounding is finished a standard detail is completed as described above. Compounding is a labor intensive (costly) process that is necessary to bring some boats "back to life" and can be avoided on a going forward basis if the vessel is regularly cleaned and waxed.
Preventative Maintenance
We do the 'dirty work' and you have the fun! Northstar's preventive maintenance program is designed to ensure that your boat or yacht is operationally ready every time you step on board! Through a program of consistent care and attention, surprises are minimized and small issues are detected and addressed prior to becoming major and costly repairs. Northstar's preventive maintenance program covers over 50 steps including...
Visual inspection of engine room, bilges and cabin
Check and adjust all fluid levels (engines, transmissions, generators, batteries, thrusters)
Clean and inspect all sea strainers (engines, generators, a/c systems)
Start and run engines and generators to operating temperatures
Operate/test all on board systems (fresh water, heads, a/c, lighting, etc.)
Test all helm navigational systems (VHF, GPS, chart plotters, radar, nav lights, etc.)
Repairs
Northstar staff directly deals with most minor repair and routine maintenance items on a client vessel. But we wisely know the limits of our skill sets and do not exceed these limits! Northstar knows when to bring in a specialist (certified diesel mechanics, trained a/c technicians, marine electricians, canvas professionals, etc.). More importantly, our local knowledge and experience in serving our client base allows us to know who the truly skilled and reliable professionals are...and who to avoid! Whether the repairs or maintenance items are performed directly by Northstar or via a trusted third-party, Northstar will oversee the activity directly to ensure that the job is done right, the first time, every time!
Diving / Bottom Cleaning
Routine bottom cleaning services are provided by Northstar to maintain the integrity of the vessel below the water line. By removing marine growth, inspecting/changing underwater zincs consistently and visually inspecting the bottom of the vessel, we are minimizing electrolysis damage, increasing speed and improving fuel economy. Our diving service also can include propeller changes, zinc changes and other underwater maintenance that can be performed without the cost of hauling the vessel. Our routine bottom cleaning service, an integral part of any vessel management program, includes...
Cleaning of hull, running gear, trim tabs, stabilizers and thru-hulls
Removal of soft and hard marine growth (including oysters and tube worms)
Examination and replacement of transom, shaft and other zincs as needed
Examination and reporting on condition of bottom paint
If issues are detected during this process, the owner is promptly advised and corrective action is recommended pending owner approval.
Full Vessel Management
Northstar's full vessel management program results in you having a "Captain Maintained" vessel at a fraction of the cost of employing a full time captain! Northstar offers its full vessel management service to those boat and yacht owners that want their vessel maintained in turn-key condition at all times... but do not have the time, skills or inclination to do so themselves.
By bundling all the services applied to your vessel under one focal point, services can be delivered MUCH more cost effectively than if separate services were purchased individually from many different vendors. This program encompasses virtually all of the services Northstar brings to bear on a constant basis so that the vessel is ready to be utilized and enjoyed 24/7. While tailored to each owner's needs, our full vessel management program generally includes the following services...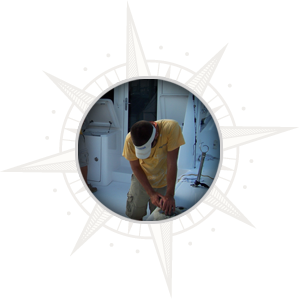 Routine cleaning
Routine detailing/waxing
Routine systems check
Preventive maintenance services
Repairs (as needed)
Diving / bottom cleaning services
Captain services (as needed)
These programs are highly customized to the unique needs of each owner. Please call us to set an appointment to meet and discuss how this program could meet your unique needs.
Gel Coat / Brightwork
Gel coat repairs and brightwork is offered when needed. Northstar generally outsources most fiberglass, gel coat and paint repairs to one or more reliable third parties. Brightwork efforts are generally performed directly by Northstar and range from deep cleaning and sanding natural teak decks and deck furniture to 15 coat high gloss varnish projects.
Vessel Delivery
Northstar maintains the ability to provide highly experienced boat captains and/or experienced mates that are on call for vessel delivery throughout the eastern seaboard and the Caribbean. All captains that we utilize are known to us to be highly trustworthy seamen and have been reviewed and qualified prior to utilization. Whether it is a long journey, or a short hop to a Jaguars game, boat yard or different marina, Northstar can save you the time and provide you the convenience of moving the boat.
Northstar provides the highest quality results at the most cost effective and reasonable price with the most professional approach possible.
Northstar's services include...
Cleaning
Detailing
Compounding
Preventive maintenance
Repairs
Diving / bottom cleaning
Full vessel management
Gel coat / teak brightwork
Exterior restoration
Vessel delivery
Northstar's business is completely mobile serving vessels at homes, in marinas or at your place of work throughout Northeast Florida.
Areas
Jacksonville
Jacksonville Beach
Mandarin
Green Cove Springs
Orange Park
Ponte Vedra Beach
St. Augustine
Palm Coast
Marinas
Camachee Cove
Conch House Marina
St. Augustine Municipal Marina
Beach Marine
Palm Cove Marina
Harbortown Marina
Ortega Landing Marina
Lambs Yacht Center
Florida Yacht Club
St. Johns Yachting Center
Palm Coast Marina
Yacht Harbor Marina
Neighborhoods
Marsh Landing
Queens Harbor
Epping Forest
Pine Island
Isle of Palms
Villages of Vilano
Palm Valley
Worksites
Residences
Marinas
Boat yards
Dealerships
Dry storage facilities